How practical is marble in your home?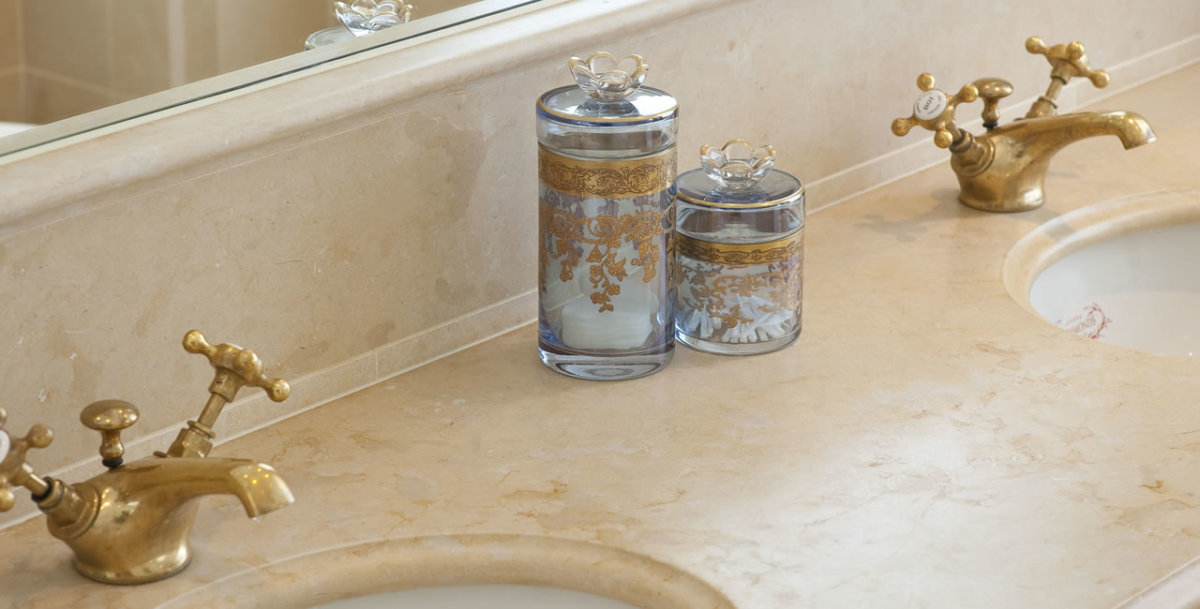 There's no denying it. Nothing quite matches the beauty of marble, the real McCoy, and homeowners are increasingly splashing their cash on marble in their bathrooms, hallway floors, kitchen worktops, fireplace surrounds. The beauty of marble is that it can be found in almost any colour to match any colour scheme, and its characteristic swirls and veins amplify its natural beauty. It is a standout feature in any room, and today's homeowners have caught the marble bug.
Marble is a fairly ubiquitous natural stone, formed when limestone is exposed to high temperatures and pressure. Perhaps less known is that its veining is due to silt, iron oxides, clay or sand which have metamorphosed over thousands of years into marble. Although marble is found the world around, fifty per cent of the world's marble is quarried by four countries: Italy, Spain, India and China.
For today's homeowners, marble is more affordable and more accessible than ever before. And what's not to like? It is timeless, elegant, durable…marble will last a lifetime and will never go out of fashion, unlike other interior fashions and fads that come and go like the seasons.
Using marble as a decorative surface is nothing new. In fact, the ancient Greeks were the first to popularise the material, using it in their temples, statues and public baths; following in their tradition were the Romans, who so admired the aesthetics of the Greek buildings, that they covered their brick buildings in sheets of marble. Rome, the capital of the Roman Empire, was a symbol of the power of the Roman Empire and no expense was spared. Emperor Augustus said: "I found Rome a city of bricks and left it a city of marble". Surely the Greeks and Romans knew a thing or two about aesthetics and uses of the stone, but in the twenty-first century, how practical is marble really for our homes?
Use in bathrooms
Marble is a porous stone (albeit not as porous as limestone). It is also a soft stone. What this means is that marble is an excellent choice for your bathroom. Why? Because it can be carved and shaped. It can be carved to curve around your bath surround or around a wash basin, it can be honed to create a matt finish which works wonderfully when you have natural accents such as bristle brushes or soaps and soft ochre colours, or when you need a non-slip floor such as in a shower tray or for a seat in a wet room; polished marble looks splendid against chrome or brass fixtures on shower walls, bath surrounds and vanity tops.
Marble is also a versatile item. Unlike the edgy hard look of polished concrete or granite, marble is timeless and can suit all styles of home.
Whether you are trying to create more of a traditional look, such as the marble that was used in this Notting Hill project where the classic elegant whites and greys of Italian arabescato corchia marble matches perfectly to the ornate chandelier and traditional style bath taps and shower head.
Or whether you are looking to create more of a contemporary look, using marble such as nero marquina, like in this cloakroom project – there is a marble to suit all tastes and styles.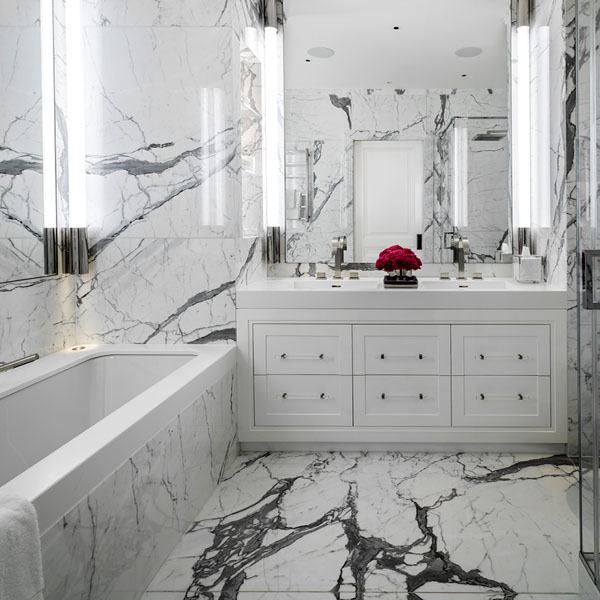 Marble in kitchens
How about kitchens? Should or shouldn't you go for a marble work top? Many people do. Others prefer to steer well clear. Why? It is a porous material, so that means it can stain. And the area of your home where most staining is likely to occur is in your kitchen. But that doesn't mean you can't use marble if sealed correctly. And if you have a fantastic slab that would look fabulous as your kitchen work top, island unit or as the upstand/splashback, why shouldn't you use it and enjoy cooking in your über stylish kitchen? And if you follow these rules and you are less likely to cause irreversible damage: any acidic products such as red wine, coffee or lemon juice can seep into marble and make it almost impossible to remove if not sealed correctly, so professionally sealing the marble upon installation is essential to help prevent future damage. In fact, sealing the marble every six months is optimal to maintain a protective surface. Unfortunately sealing marble doesn't make it 100% stain-proof, it makes it stain-resistant. So that means: always use a chopping board for acidic items such as lemons, and for everyday spills, act quickly and wipe off with warm, soapy water. But marble is a heat resistant stone, which does make it a fantastic option in your kitchen but act sensibly and don't place a scorching hot pan on the work surface directly, use a pot stand.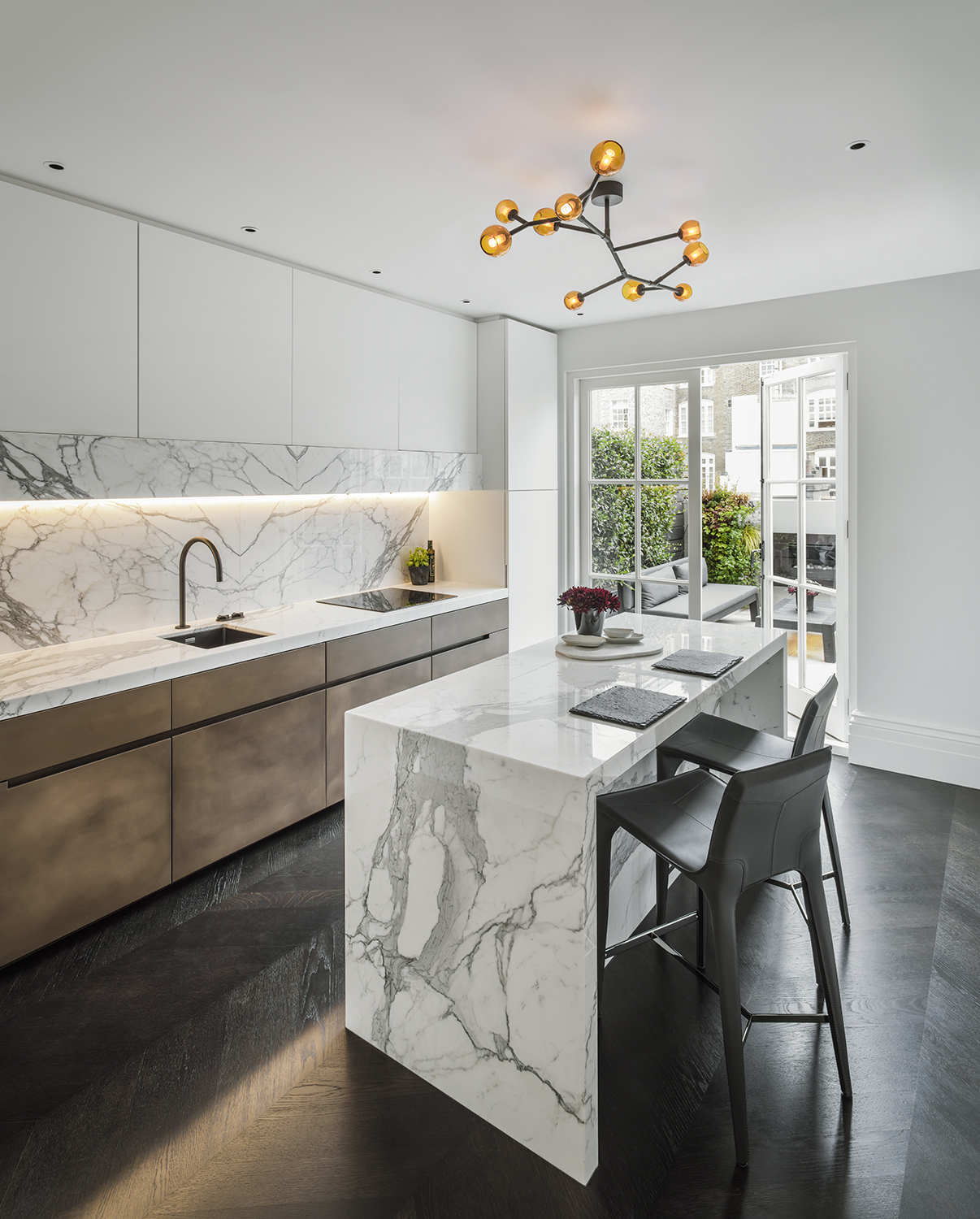 Marble Furniture
We love marble furniture, and marble coffee tables, marble consoles and marble side tables are in vogue: they create a stunning focal point in your living space and can be a real talking point. A faux alternative often just doesn't cut the mustard. But how practical are they when in reality you are likely to be placing food and drinks on them? The same rules apply as for kitchen worktops: make sure they are sealed, and if you are not sure, perhaps because you have bought as an off-the-shelf item, there are a number of sealing products that you can buy online and YouTube clips of how to seal properly. Even if sealed, wipe off a spill immediately and clean with warm, soapy water.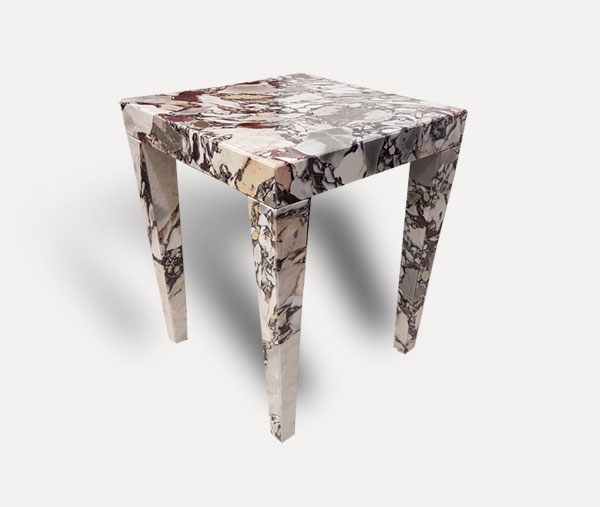 Selling your house
Marble is a luxury item and will never go out of fashion. If you are looking to sell your home, decorating with marble should translate into a higher property value. Think how a beautifully polished marble entrance hallway will impact buyers when they walk through the door, or how a marble bath surround and matching vanity unit will wow a buyer, especially if your home is one of the few properties in the neighbourhood to have marble.
About us
Stone Design London specialises in supply and installation of natural stone in London and the surrounding area. If you are thinking of using marble or another natural stone for your house project, if you'd like a quote or want some advice about which stone to use, get in touch with us at enquiries@stonedesignlondon.com or call us on: (+44) (0)20 7688 8444. Follow us on Instagram @stonedesignlondon