Focus on gardens: which natural stone to choose for your outdoor space
We take a look at how natural stone performs outdoors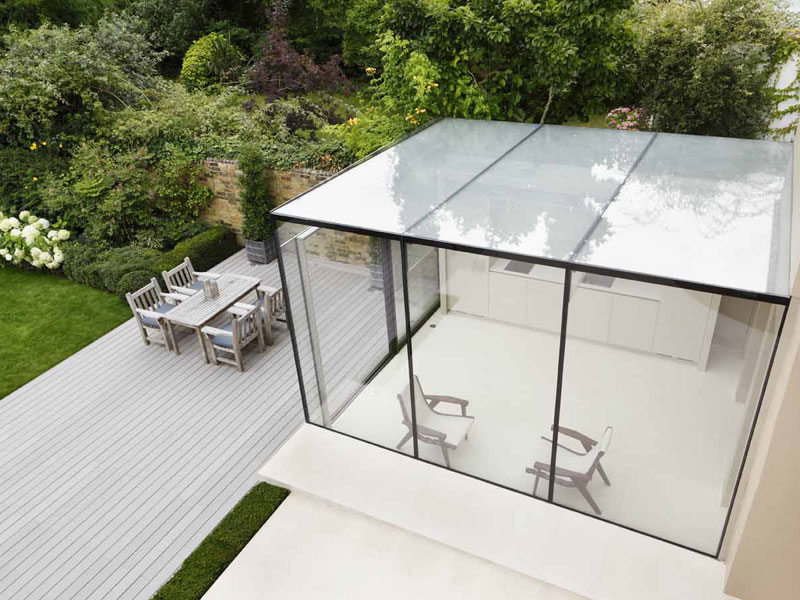 Today more than ever we are understanding the importance of spending time in green spaces, with research suggesting it has the power to counteract illness, boost our immune system, lower blood pressure and aid sleep.
We can gain those benefits right on our doorstep, with spending time in our gardens being equally as beneficial as being in large green spaces.
As professor Alistair Griffiths, RHS Director of Science, explains:
"A gardening green revolution has started – with increasing scientific evidence highlighting the critical importance of garden plants, gardens and gardening benefiting our physical, mental, and social wellbeing. There are very few, if any, other activities that can achieve all of the things that horticulture and gardening can – in particular, the measurable beneficial impacts on active lifestyles, mental wellbeing, and social interaction. Gardens and plants also improve our environment, protecting us from noise and particulate pollution, as well as cool us in extremes of temperature and help mitigate against flooding linked to a changing climate."

Choosing the right stone
When it comes to choosing the right stone for your garden's hard landscaping, consider these things before choosing your stone: as well as price and aesthetics, think about durability and sustainability: natural stone can last for decades even centuries if you choose the right stone, so you will be doing your bit for the planet – no need to replace, it's the antithesis of 'single-use' culture.
With each natural stone created in a different geological way, each will bring with it its own set of functional characteristics, some more suited to outdoor use than to others.
Marble
Our first choice, marble, is a metamorphic rock, formed when limestone deep in the earth's crust is exposed to high temperatures and pressure, altering its chemical composition to create a harder rock than limestone. Whilst traditionally thought of as a natural stone to use indoors, all marbles are able to withstand high pressure and impact, so can make a good choice for your outdoors too. Think of the Taj Mahal, the columns of The Parthenon and the Leaning Tower of Pisa – all made of marble. When choosing your marble, get advice from your stone supplier as to the one most suited to your climate, for example, do you live in a very warm sunny climate, or rather a damp climate? For a classic look, elegant Bianco Carrara is always a safe choice, or Crema Europa.
Do bear in mind that marble can become slippery when wet and should be honed, sandblasted or bush hammered finish to create a textures non-slippery surface.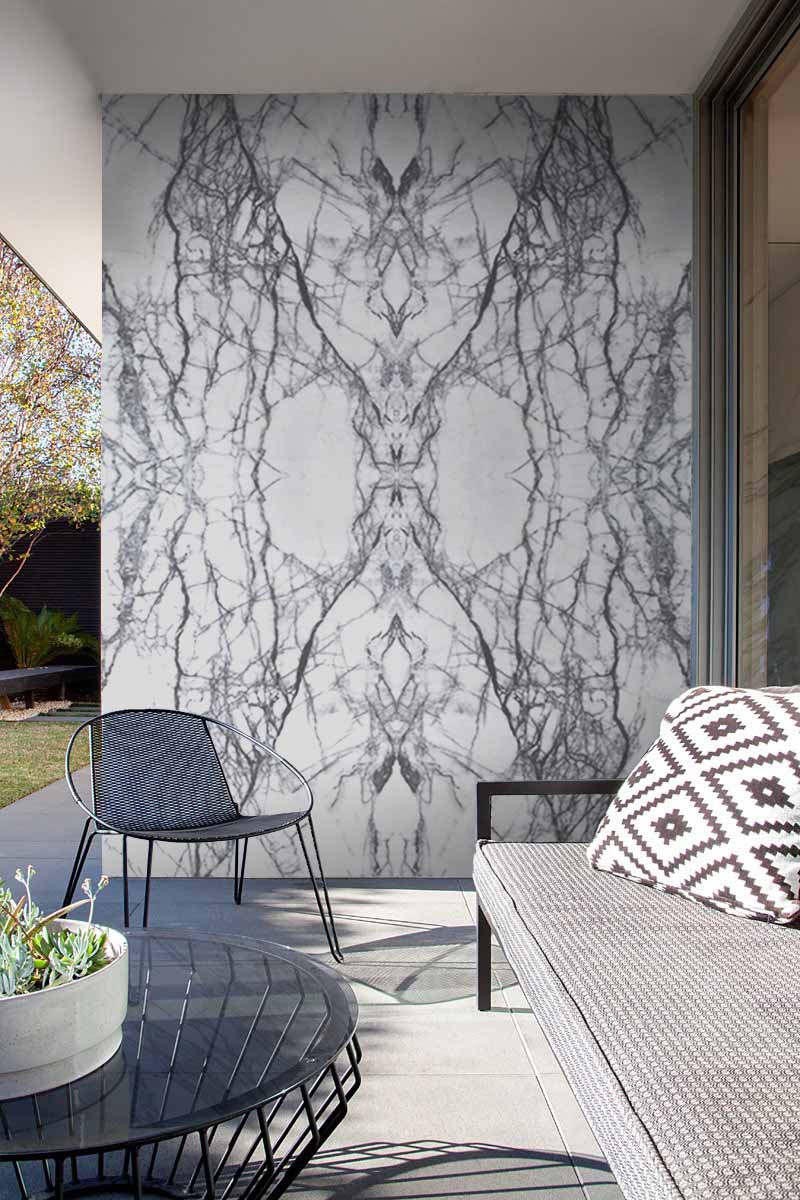 Outdoor Book Matching Lilac Polished Marble; Photo credit: Cullifords
Limestone
Like its cousin marble, limestone is another metamorphic and extremely tough stone, able to withstand wear and tear, dampness, humidity, and it comes in a range of colour hues. Amongst well-known buildings made of limestone are The Empire State building, The Great Pyramid of Giza and The Pentagon.
Limestone hardness does vary within its own genus – some limestone from southern Europe, for example, will not take the cold of an English winter and should be avoided as it will shatter in the frost. Your stone supplier can advise.
Travertine
Unlike limestone and marble, travertine is a sedimentary rock, yet it is extremely tough, resistant to the elements and has been used throughout centuries for grand buildings, such as The Coliseum, and the Basilique du Sacre Coeur in Paris. One great advantage of travertine is that it is highly mould-resistant; however, it does have a tendency to discolour in strong sunlight, so we would recommend opting for a lighter colour travertine such as Travertine Classic or Imperial.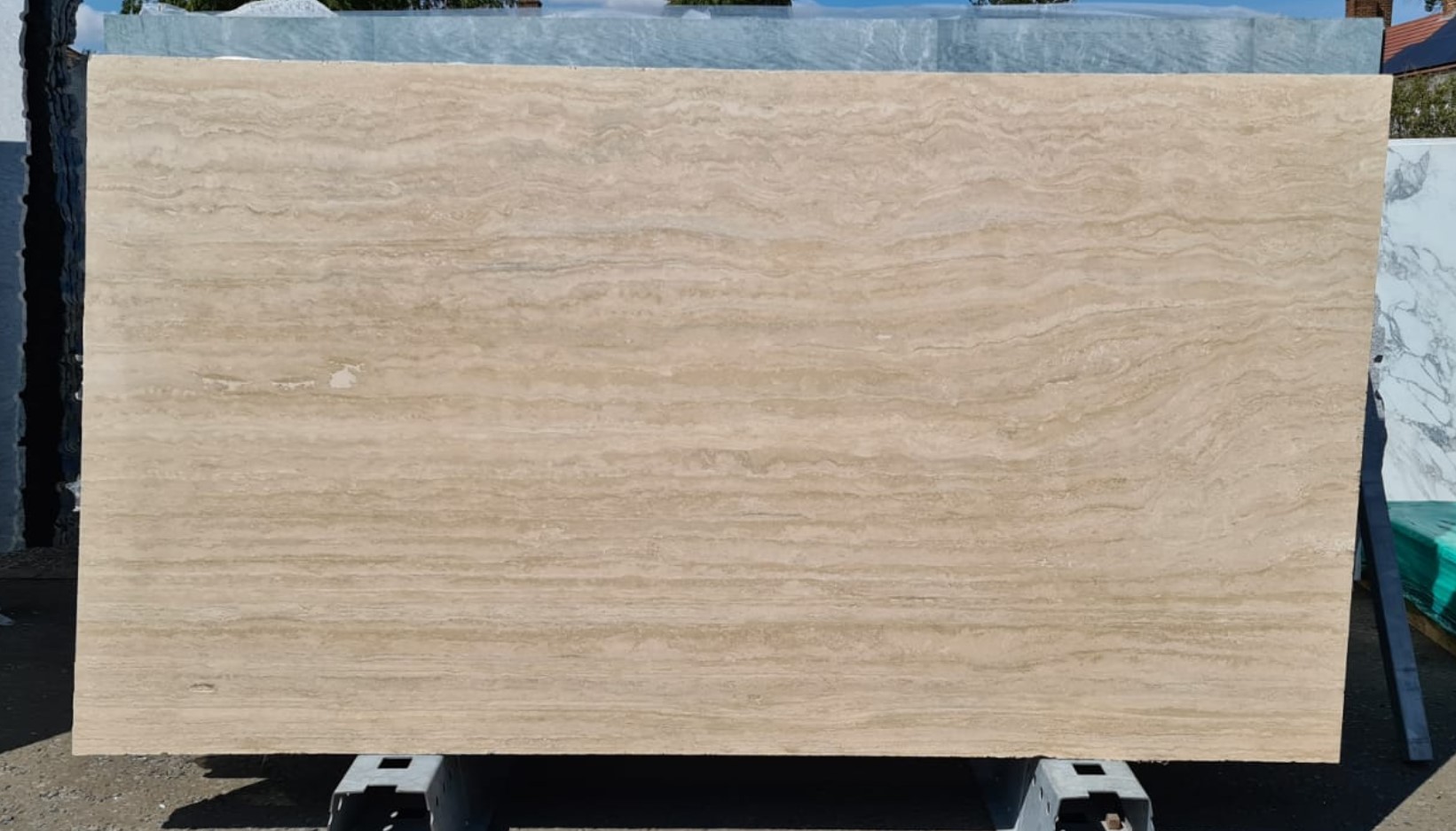 Travertine slab; Photo credit: Cullifords
Sandstone
Sandstone, a sedimentary rock, forms where sand is laid down and buried. One of the most economical natural stones for your outdoor area, in the UK most commercially available sandstone comes from India and China. Coming in a wide variety of hues and textures, and providing good slip resistance when wet, it is a good choice for the outdoor areas. Note that grey sandstone weathers better and requires less maintenance, whereas the creams, although stunning, look best when spotless, which requires more maintenance.
Yorkstone is British native sandstone, specifically from quarries in Yorkshire that have been worked since mediaeval times. More expensive than its overseas cousins, it makes an excellent choice for your outdoor area, and each slab displays different variations and life.
How we can help:
Whether you are looking for natural stone for your indoor or outdoor space, we can supply, template and install it
If you have found your ideal stone but need a stone professional to install it OR
If you can't find the stone you are after
We are here to help. Call us today for advice and a free quotation of your project:
Email us at enquiries@stonedesignlondon.com
Call us on: (+44) (0) 20 7688 8444