Which is the best stone to use for your kitchen worktop?
Stone Design London looks at four popular worktop surfaces and how they perform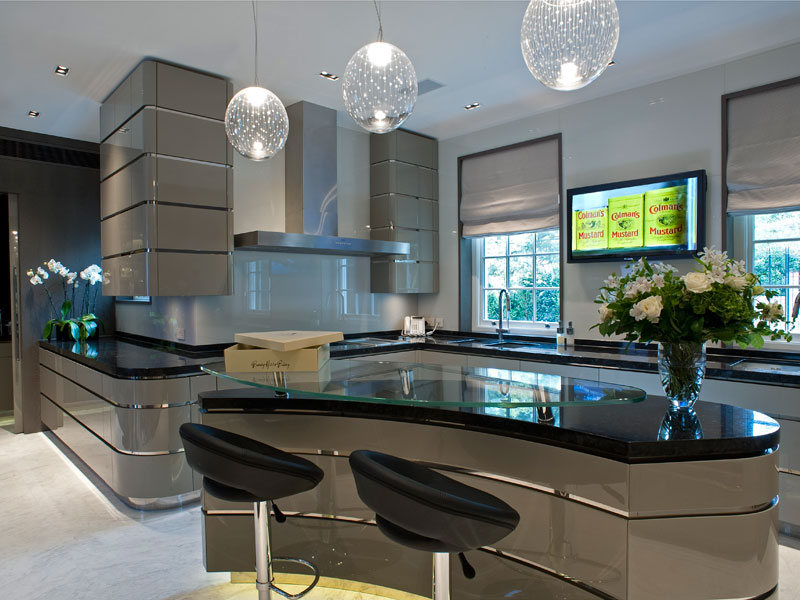 Volakas marble flooring, North London project, Stone Design London
Marble
Where does marble come from?
Marble is a metamorphic rock, formed when limestone deep in the earth's crust is exposed to high temperatures and pressure, altering its chemical composition to create a harder rock than limestone. Its beautiful natural veining is caused when silt, iron oxides, clay or sand is metamorphosised over thousands of years.
Marble is timeless
Marble is timeless, elegant and durable, and it will never go out of fashion, unlike other interior fashions and fads that come and go. Marble comes in a huge variety of colours, patterns and also hardnesses, with the light-coloured Carrara group of marbles taking the top spot currently as number 1 choice for kitchen worktops. That includes the Calacatta, Arabescato and Statuary variety as well as Carrara marble itself. Customers are also choosing harder marbles for flooring such as Volakas (shown above). Chefs also love marble to work on – it makes the ideal surface for pastry and dough.
Is marble a suitable material to use for your kitchen worktop?
Marble is a porous material, so that means it can stain. But that doesn't mean you can't use marble if sealed correctly. And if you have a fantastic slab that would look fabulous as a kitchen worktop, island unit or as the upstand/splashback, why shouldn't you use it in your über stylish kitchen? Designer Barbara Sallick, founder of Waterworks, states: "Using a natural marble (countertop) is the only choice for me – natural materials take on a patina over time and it grounds the kitchen, it makes it feel lived in and warm. The more natural materials you use, the more holistic the kitchen is." 
How does sealing work?
Sealing is key to protect your marble worktop from permanent damage caused by acidic products such as red wine, coffee or lemon juice, which can seep into marble and sometimes become impossible to remove. Professionally sealing the marble upon installation is key, and in fact, sealing marble every six months is optimal to maintain a protective surface. Unfortunately, sealing marble doesn't make it 100% stain-proof, but it does make it stain-resistant. So that means: always use a chopping board for acidic items, and for everyday spills, act quickly and wipe off with warm, soapy water. If stains do appear, with luck they can be removed with a poultice and re-polished in situ.
Is marble heat resistant?
Being formed under high temperatures and pressures means that marble is a heat-resistant stone, but act sensibly and don't place a scorching hot pan on the marble directly; instead always use a pot stand or chopping board.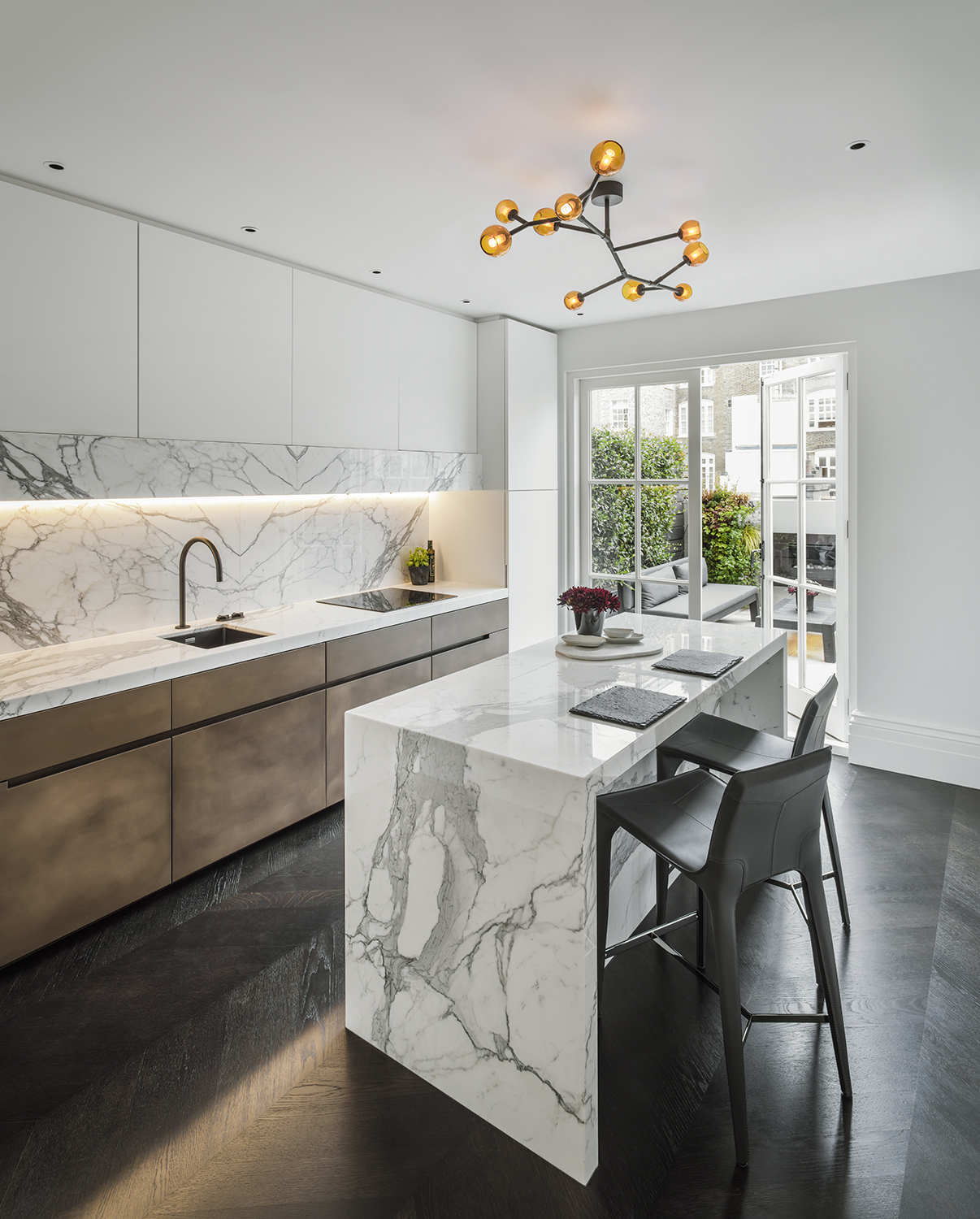 Statuary marble with book-matched splashback – West London project, Stone Design London
Granite
Where does granite come from?
Granite is a form of igneous rock and is created when melted rock or magma solidifies underground. It is composed of three main minerals – quartz, mica and feldspar. Feldspar predominates and is often pink, which is why many granite countertops have pinky tones.
Granite is durable and tough
Granite makes a fantastic option for kitchen countertops, as it is durable, more stain-resistant than marble, almost completely scratch-resistant, and has a wide variety of colours and natural patterns present within the stone. It is therefore not surprising that it is one of the most popular choices for worktops. Like marble, there are a great variety to choose from, and they also vary from very hard to softer ones. Formed deep within the earth's crust, granite is a very heat-resistant natural stone, but like marble, it could suffer from heat shock from a scorching pan, so always use a pot stand or chopping board for your hot pans.
How to care for granite
The very hard granites do not require sealing whereas the softer ones do – as a precautionary measure. Upon installation, ensure that your worktop is sealed professionally (the sealant will impregnate the worktop below the surface which will stop oils, water and other liquids from entering the stone), and then day-to-day cleaning can be done with a soapy solution (non-acidic). Occasionally, cleaning your granite worktop with a product such as Litofin Wexa will help remove ingrained dirt and wax films that have built up.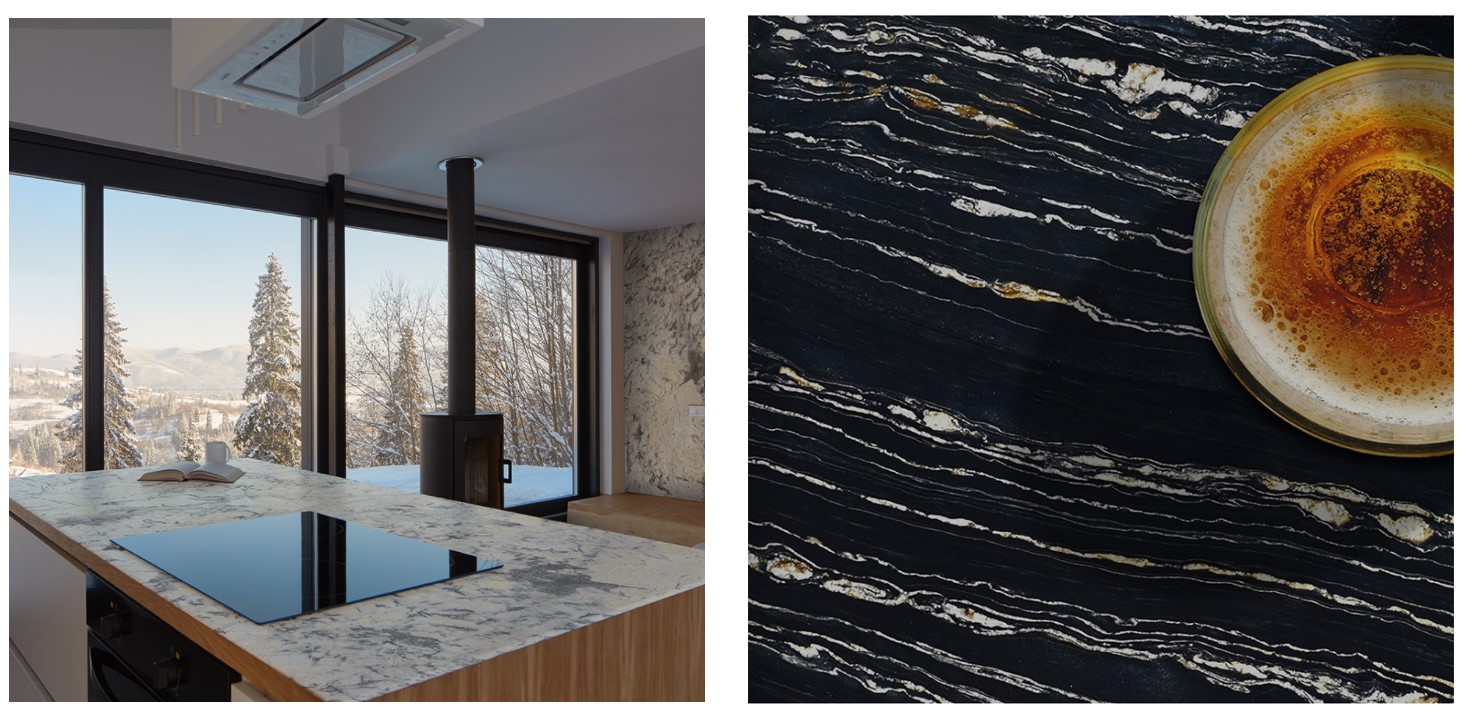 Granite worktops. Photo credit: Cullifords
Quartzite
What is quartzite?
Not to be confused with quartz, this quartz-rich rock is a natural stone and 100% natural. It is a metamorphic rock, formed when sandstone is buried, heated and squeezed into a solid quartz rock. It is white to grey colour when pure, with shades of pink, orange, yellow and red when it contains mineral 'impurities'.
It is a hard, incredibly durable rock and makes a wonderful alternative to marble or granite when a hard-wearing material is desired, and is becoming increasingly popular amongst homeowners, especially as it's typical 'wavy' natural patterns within the rock are particularly attractive as a worktop, splashback, island unit or on walls.
How does it perform as a worktop material
It performs similarly to granite, it is heat-resistant, scratch-resistant and very durable, although like all the natural stones we have described, quartzite comes in a variety of hardnesses, with the harder varieties being more resistant to scratches and other daily wear-and-tear than the softer ones.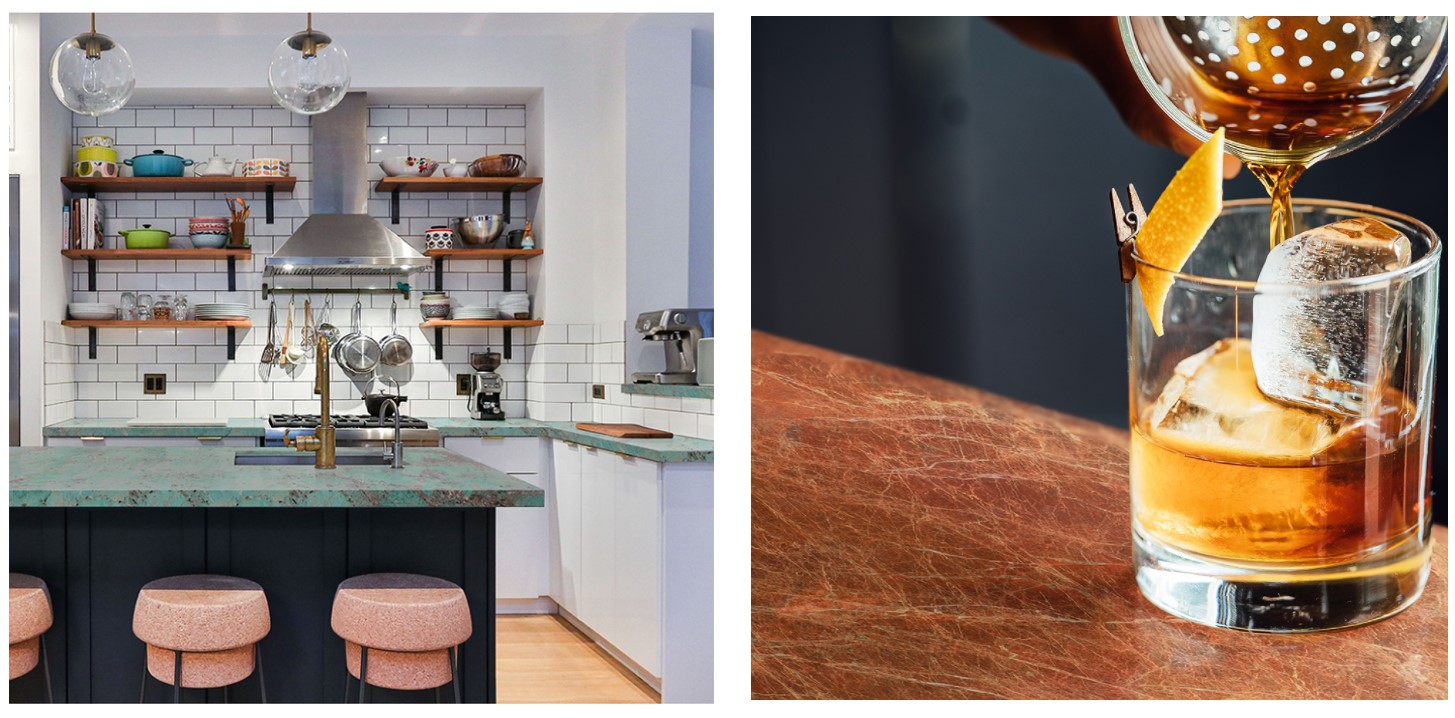 Amazonite quartzite (left), Majestic brown quartzite (right). Photo credit: Cullifords
Quartz
What is quartz?
Unlike marble, granite and quartzite, quartz worktops are not 100% natural. Rather, it is a manufactured product, composed of about 90 natural quartz which is broken and ground up and mixed with resins, polymers, and various types of pigments. The resulting stone is incredibly tough, it is void of pores and cracks which means it is non-porous and also stain-resistant. Quartz comes in a wider range of colours to choose from than granite, it has a unique glossy finish compared to other worktops, and it is therefore a very popular choice amongst homeowners.
Quartz v granite or quartzite
Sometimes homeowners are unsure of whether they should go for quartz, granite or quartzite. Well quartz is highly durable, less likely to chip, crack, stain than natural stone, and is virtually maintenance free – no sealing or polishing is required; in fact if you were to try and seal a quartz worktop the sealer will just sit on top of the material and leave a film. All you need to do to maintain its appearance is just regularly clean it with warm, soapy water (never use an acidic or abrasive product). It is therefore a hugely popular choice amongst homeowners who are less willing to take the time needed to care for natural stone or perhaps worry about staining as they have small children/they are prone to clumsiness. Yet what it lacks is the patina of natural stone, it looks and feels less authentic that natural stone, and if you are all about 100% natural materials, then quartz probably won't be for you.
Is quartz indestructible?
Quartz worktops are quite heat-resistant, but less so than granite. So like natural stone products, always use a pot stand or chopping board for your very hot pans. Also, it must be noted that quartz is not resistant to UV light meaning that over the years it will fade a little and loose its lustre, especially if over-exposed to direct sunlight. So if you have large kitchen windows with sunlight pouring in daily, it might not be the best stone to use for your countertops. Also, whilst highly scratch-resistant, it can scratch: tight-grained, dark, solid colours are especially susceptible and hard to fix, so always chop on a board.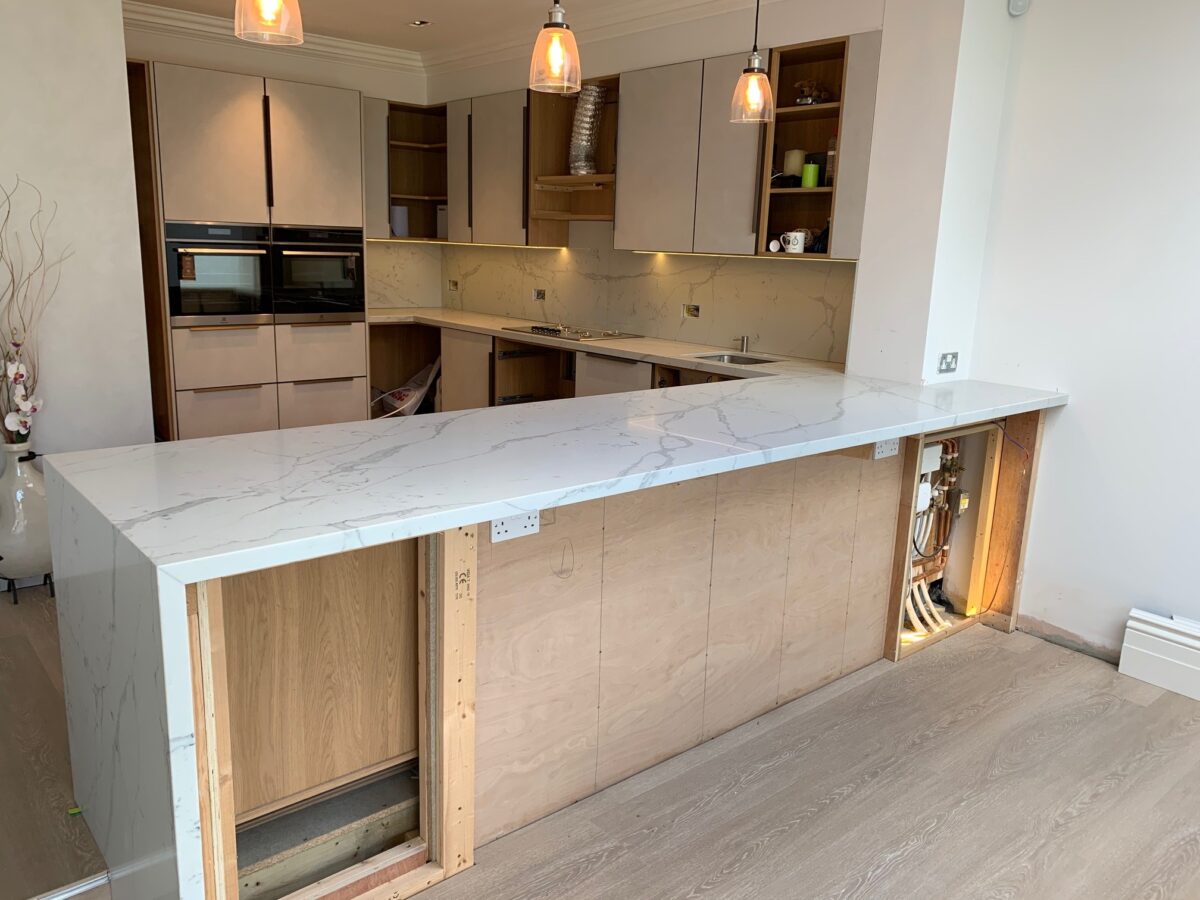 Quartz worktop, East London project, Stone Design London
 How we can help:
If you are thinking of updating your kitchen but don't know where to start OR
If you have found your ideal stone but need a stone professional to install it OR
If you can't find the stone you are after OR
You would like to use a stone specialist to project manage, supply and install the stone aspect of your project
We are here to help. We work with several stone warehouses which have dozens of types of natural stone and quartz on offer. We can help you decide which is the right stone for you, template your project and install it for you. Have a look at our portfolio page for some inspiration. Call us today for advice and a free quotation of your project: